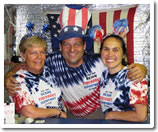 Big Bang Fireworks was founded by Bob Carpenter in 1989 upon graduation from the College of William and Mary. Bob began selling fireworks in high school with a partner he had worked with in the Junior Achievement program at St. Christopher's School. The first Big Bang Superstore opened in Mechanicsville in June of '89. Jim Boyd, a college friend of Bob's, joined Big Bang in 1995 and the two work together to this day to serve the areas surrounding Richmond including Mechanicsville, Colonial Heights, and Powhatan.
Our seasonal employees are mostly school teachers and dancers at the Richmond Ballet, many of whom are laid off from their regular jobs during our busy season. We strive to provide a fun and exciting way for families to come together and celebrate America. We scour the country to find the best new and spectacular fireworks each year that conform to the "Safe and Sane" designation permitted by the State of Virginia. These fireworks are designed for use in a driveway or backyard and do not fly way up into the sky or explode like the rockets and "cherry bombs" of the past. Nevertheless, they continue to entertain and amaze families year after year, and when used properly can be enjoyed much more safely.
Customer service has been our first priority since we began selling fireworks over 20 years ago. We have an extensive mailing list with special promotions to thank our return customers. We work hard to provide a show that suits each individual's needs, and our well trained staff can direct you to the best mix for your budget and shooting site. We offer Virginia's largest selection of legal fireworks and we personally test our products to ensure that their quality is worthy of our shelves. We have loud and quiet fireworks, colorful and bright items, long-lasting dramatic finales, fun novelties, and a huge selection of sparklers in all shapes and sizes that are great fun at weddings, birthdays, New Year's Eve, and, of course, the Fourth of July!